Construction sites
On a construction site, activities such as pile driving, heavy vehicle movements, soil compaction and excavation generates vibrations which can lead to discomfort for the inhabitants of nearby homes. These vibrations can be felt far away from the site. In addition to ensuring compliance with regulations, monitoring these nuisances is essential to maintain good relationships with the site neighbors and improve acceptance.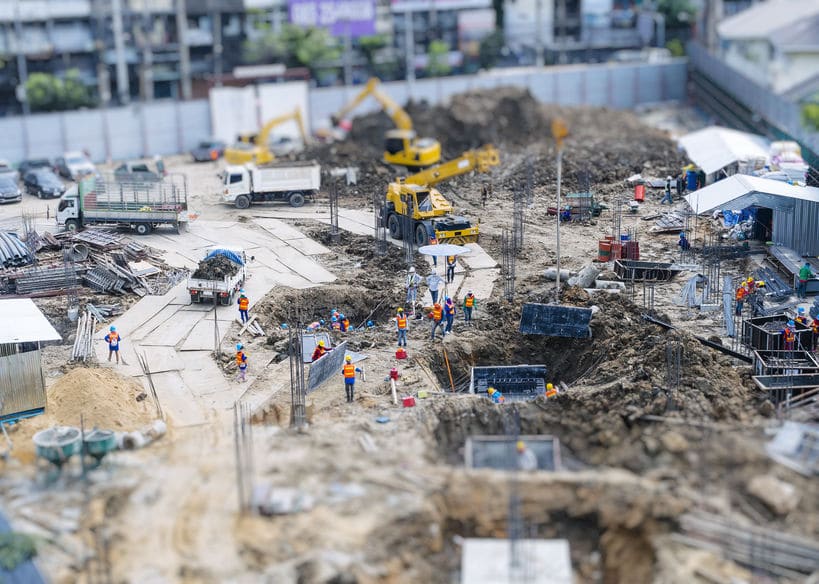 What we do
We provide construction work companies or environmental nuisance service providers who support them with end-to-end easy deployable solutions to measure, notify, analyze and report the effects of construction work activities on the surrounding environment. We go beyond the comparison with standards by providing a means to optimize operations and communication channels with any involved parties.
This is achieved by using RECOVIB.SHIVER monitoring stations deployed in the field and remotely connected to the RECOVIB.IO platform.
The RECOVIB.SHIVER is a comprehensive outdoor monitoring station that measures any combination of vibration, dust/particle concentration and/or blasting air overpressure. The RECOVIB.IO platform is accessible from any web browser and allows for visualization, alerting, analyses and reporting as well as SHIVER station remote management
advantages
Easy adaptation to local legislation
Turnkey solution
Global 4G coverage; international SIM card provided, automatically detects the mobile operator providing the best network at the installation location
Very easy commissioning
Single or Multi-site monitoring using the recovib.io platform
Allows for long-term outdoor permanent monitoring
 USE CASES
 Building Vibration DIN4150-3
Construction of a new apartment building close to the historical city center of Mons, Belgium.
In order to build a new apartment building, construction activities like demolition, excavation and pile driving had to be carried out. Those activities took place very close to existing inhabited buildings and historical buildings. The construction company, together with the environmental nuisance consultant and the authorities made a decision to – during the construction period that lasted several months – ensure the permanent monitoring of the level of vibration.
It was decided that the DIN4150-3 standard would be met and in particular "Line 3", which is used to assess the effect of vibration on surrounding buildings with "great intrinsic value".
Besides the usual vibration monitoring features, the use of a RECOVIB.SHIVER and the RECOVIB.IO allowed us to implement algorithm from DIN45669-1 annex E (Method for assessing the effects of transient vibrations on building structures without determining the significant frequency). This allowed for accurate automatic real-time notification as compared to the classical peak particle velocity – dominant frequency method. Finally, two vibration levels were selected for notifications: 2 mm/s for warning and 3 mm/s for alarms. In the case of warnings, the construction company was required to take actions to limit vibration, while in the case of alarms the construction activities would have to be stopped.
A comparison with a competitor's device showed the efficiency of this approach as the competitor's device generated false alarms as they were based on the peak particle velocity (PPV) only, i.e. without taking into account the vibration frequency content.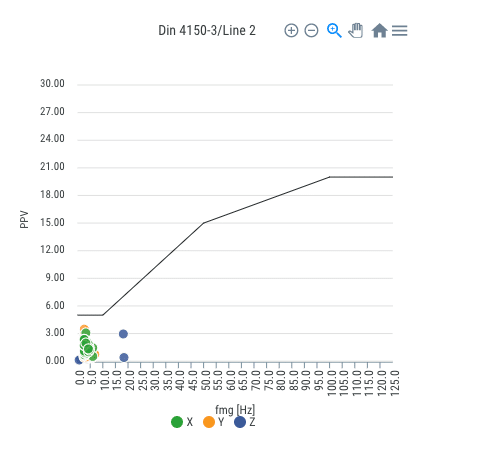 Contact Us

Need the help of an expert ?
You prefer to be called back ?

You have a question ? You need a quote ?