Wireless vibration sensor : Tiny Vibration Recorder
The Recovib.Tiny is a 3-axis shock & vibration data logger. This wireless vibration sensor is extremely practical for a vibration diagnosis, offering up to 6 hours of measurement. Its wireless technology and intuitive operation provides substantial time savings in the performance of your measurements. It is the only type of vibration and shock recorder that allows several sensors to be used simultaneously in a synchronized manner enabling the performance of modal analyses and operational deflection shape analyses on large structures such as bridges or Walkways.
We offer different measuring ranges: ± 2/6G, ± 15G, ± 200G.
It is able to record 1024 acceleration values (shocks and vibrations) per channel per second.
The RECOVIB Tiny is the smallest, lightest and the most robust recorder on the market that is able to perform recordings in extreme conditions ranging from -10°C to +50°C. It is also dust and watertight to IP65.
The smallest vibration recorder on the market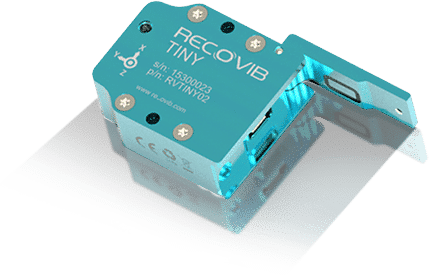 What is a wireless vibration sensor ? What is it used for ?
It is a sensor that allows vibration measurements to be made without the need for wiring, which is very tedious for a one-off measure and very costly over long distances.
How does a wireless vibration sensor works ?
In our case, it is a vibration recorder that stores the measured values (so no communication, no wifi, no cable).
What are the advantages of Micromega vibration sensors ?
It saves you time (no cable installation)
It saves you money (prices of cables)
It is removable
Typical Use of Our Wireless Vibration Recorder
"Quick & dirty" vibration monitoring & diagnosis
Remote vibration diagnostic/consultancy
Vibration measurement on rotating parts
Vibration modal analysis
Machine tools – Automotive – Aviation
Structural analysis and health monitoring
Traffic and transport sector
Features
3 axis
DC to 250Hz useful bandwidth
Low noise
6-hours battery autonomy (1024 samples/second)
2 GB storage capacity
Wireless during vibration measurements
Compact and rugged design
Protection grade IP65 – Total protection against dust & splashing water
Several sensors can measure synchronously and simultaneously
Synchronization in millisecond level for several hours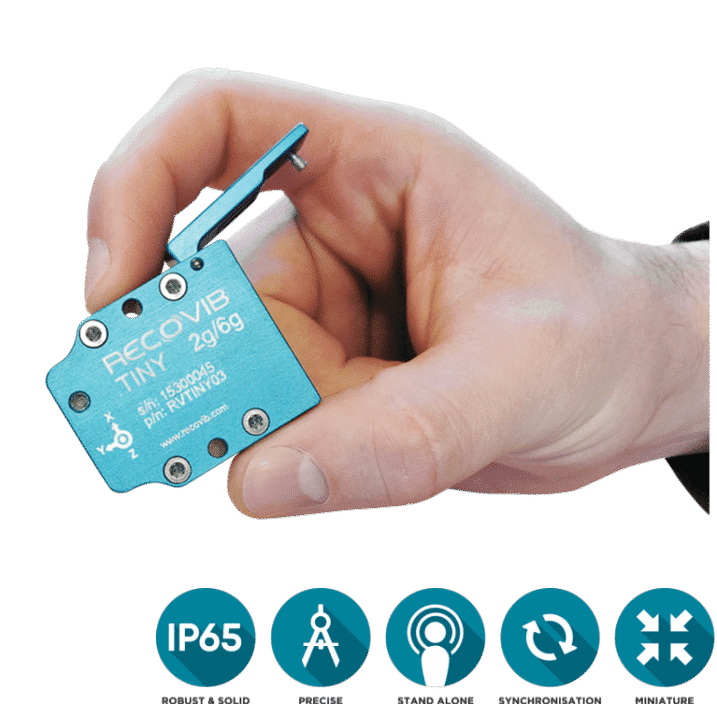 works with recovib suite
RECOVIB suite is free downloadable software for Micromega Dynamics device management and measurement analysis.
Follow the link below for a detailed description.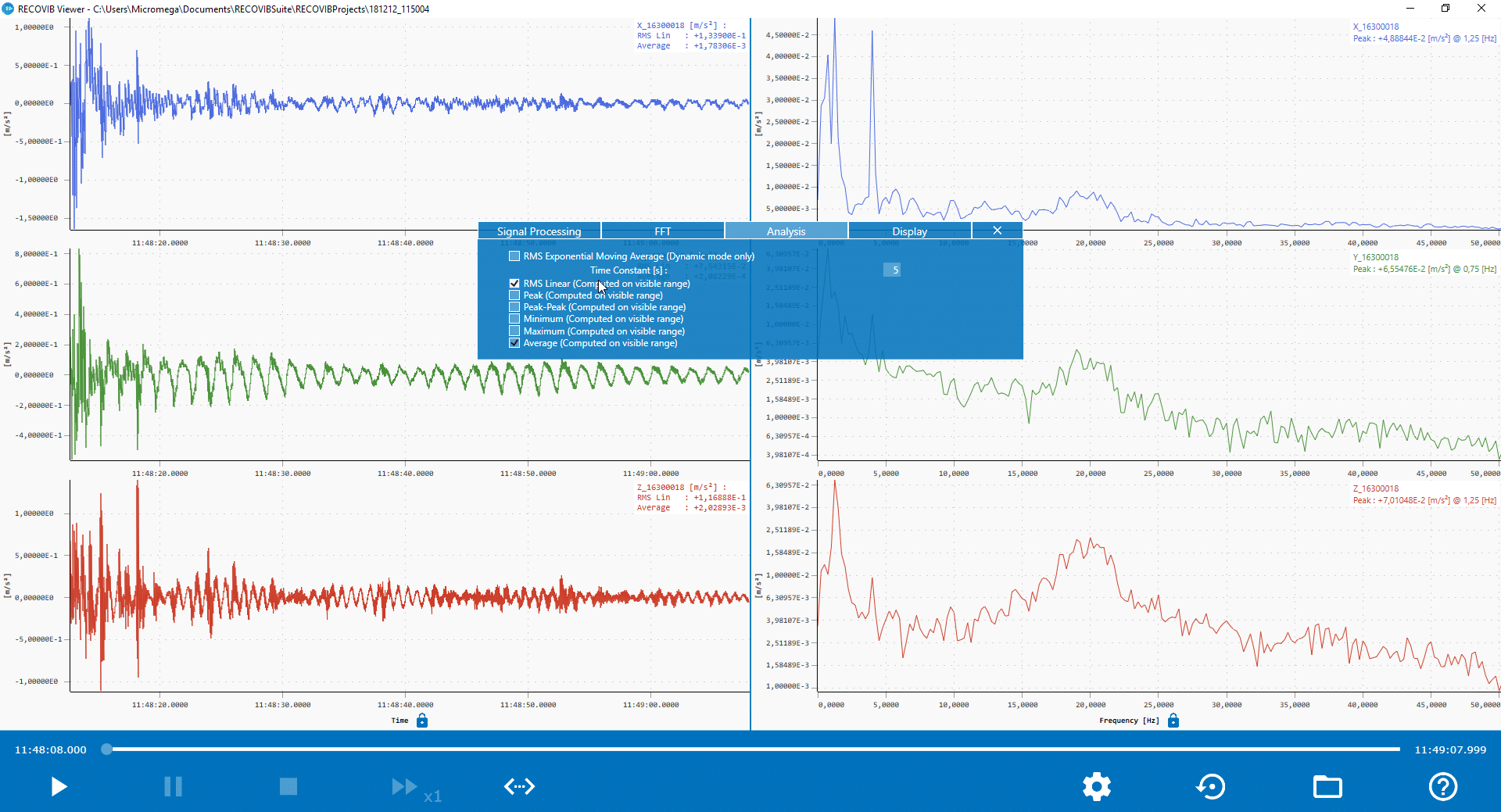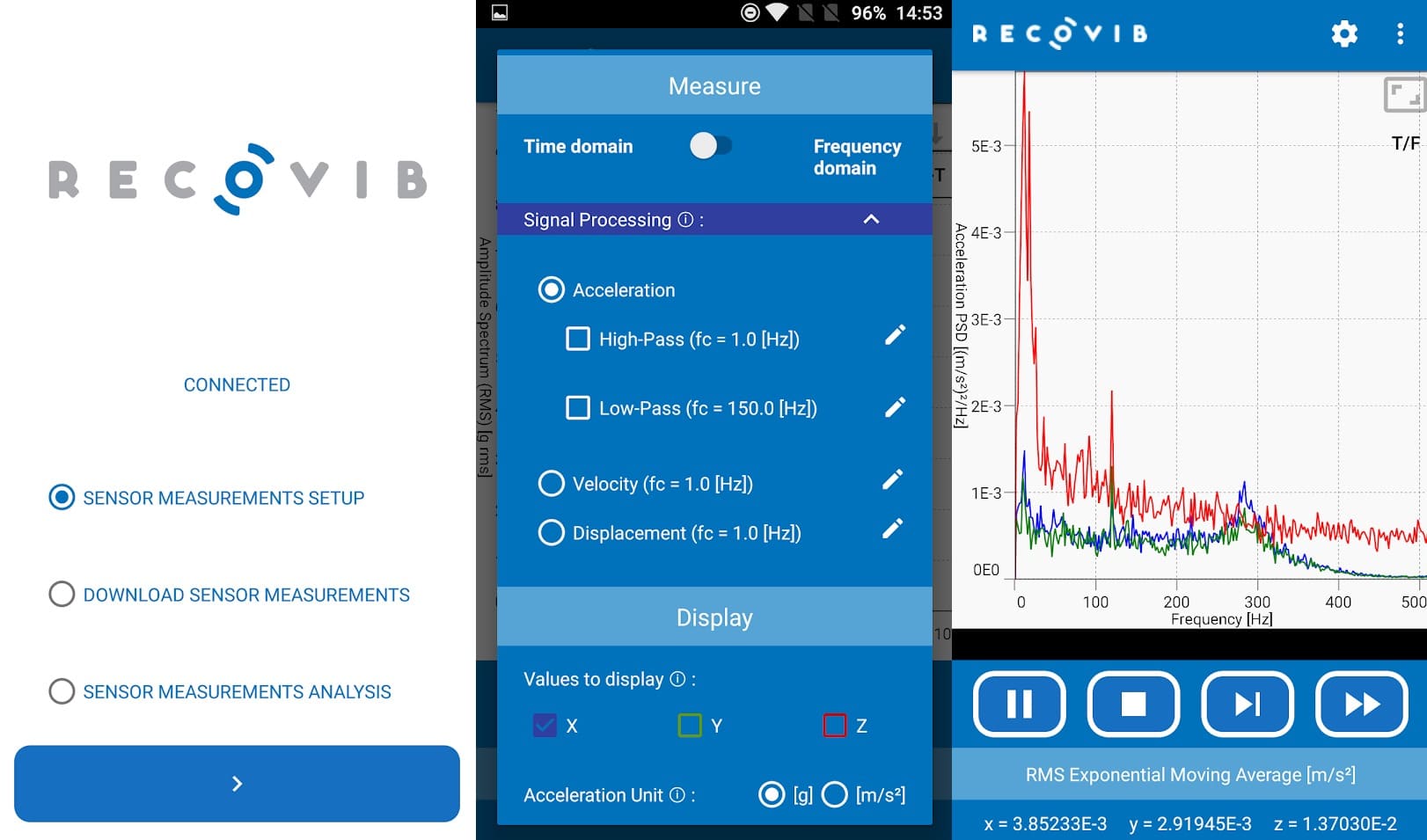 Closed
Software

RECOVIB Suite
Android Software On :

Google Play and the Google Play logo are trademarks of Google LLC.
USE CASES OF OUR TINY WIRELESS VIBRATION RECORDER

Contact Us

Need the help of an expert ?
You prefer to be called back ?

You have a question ? You need a quote ?